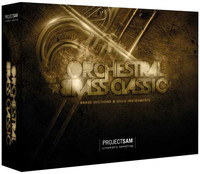 ProjectSAM has released version 1.2 of Orchestral Brass Classic, a symphonic brass sound library for Kontakt.
ORCHESTRAL BRASS CLASSIC is the re-issue of the most respected symphonic brass series on the sample market: SAM Horns, SAM Trombones, SAM Trumpets and SAM Solo Sessions. Known for its ambient, cinematic sound, ORCHESTRAL BRASS CLASSIC is the only brass library that no film, TV or game composer can afford to be without.
Changes in Orchestral Brass Classic v1.2
Pitch Scaling Curves: All groups in all instruments were re-checked for the presence of Pitch Scaling curves, and removed where found.
Bug Fixes:

09c Tuba Staccato s – When playing keynote F2 at the lowest velocities clicks occurred. Zones adjusted.
26 Trp Sect Intervals KEY MOD stage & close – Intervals were more quiet when modwheel is up (so downward intervals) then when modwheel is down, fixed.
01 Tbn Sect KEY s & 11 Tbn Sect staccato s – Group ID 34 had no KSW assignment & Zone volumes imbalanced.
03 T Tbn Solo Sustain DYN c – Pitch Scaling Curves removed.
F Hn Sect Intervals – Stage & Close – Wrong interval labels.
Multi – Epic Sustain – Pitch Scaling Curves removed.
Orchestral Brass Classic for Kontakt (powered by Kontakt Player) is available to purchase for $399.99 USD / 299.99 EUR ex. VAT.
More information: ProjectSAM