ProjectSAM has announced availability of its new Symphobia 4: Pandora Core, a virtual instrument library that offering all the time-saving technology of the full version of Pandora for an essential selection of instruments in one, cinematic mic set.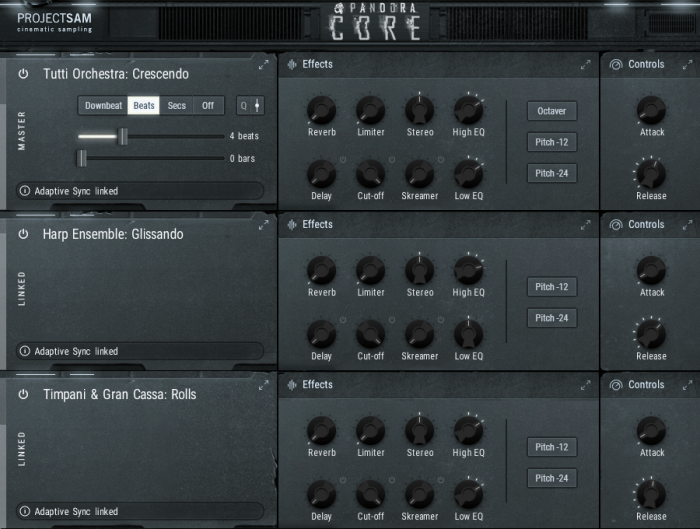 Give your action, sci-fi, and horror scores a blockbuster boost with the fourth volume in ProjectSAM's acclaimed Symphobia Series. Symphobia 4: Pandora Core lets you summon rousing cinematic risers, foreboding falls, and earth-shattering crescendos with unmatched ease and flexibility.
Pandora Core features
All of Pandora's unique, time-saving technology.
Essential instruments in 1 mic set.
Effortlessly sync risers, rolls & crescendos to your sequence with Adaptive Sync.
Generate thrilling scores with powerful, fully customizable sound design tools.
Over 17 GB of orchestral ensemble recordings covering strings, brass, woodwinds & percussion.
Upgrade to the full version of Pandora available.
Symphobia 4: Pandora Core is on sale for the intro price of 199 EUR / $219 USD until April 9th, 2020.
ProjectSAM has also re-released The Free Orchestra, which includes all 12 presets originally released throughout 2019, as well as two brand-new presets with content from Symphobia 4: Pandora and Symphobia 3: Lumina.
The library now also offers a number of Multis, layering the individual presets in different, inspiring ways.
The Free Orchestra offers you one solid gigabyte of free, cinematic sounds taken directly from ProjectSAM's acclaimed libraries, including Symphobia 4: Pandora and Symphobia 3: Lumina.

Instruments range from orchestral string staccatos and brass clusters to symphonic percussion and dystopian sound design. This re-release offers new presets, Multis, NKS support and Kontakt Player compatibility. This means TFO now lives in Kontakt's library browser!
If you're enjoying The Free Orchestra and would like to show your appreciation, ProjectSAM urges you to consider donating to the COVID-19 Solidarity Response Fund for the WHO.
More information: ProjectSAM