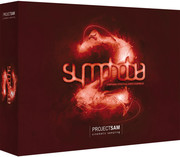 ProjectSAM has announced the release of version 1.3 of Symphobia 2, the multi award winning industry standard cinematic orchestral library.
This massive 7Gb update offers a multitude of additional samples, new features and a completely overhauled interface.
Changes in Symphobia 2 v1.3
An additional dynamic layer has been added to four of the popular Legato Ensembles. This means that you now have multi-dynamic, expressive mod-wheel control for instruments such as the Celli Doublebasses in Octaves and the Horns+Violins+Violas in Unison.
10 New inspiring Multis are available covering various styles and genres. Some examples are Close the Gates, Femme Fatale, Sniper Mission and Transcending Monks.
A whole list of new features and functionality is available: a new Horns Trombones instrument with "cliffhanger clusters", an informative color-coded Kontakt keyboard, the ability to control release trail volume and length, legato overlap time and curve, reset round robin cycles and much more.
The update is available FREE to registered Symphobia 2 users.
More information: ProjectSAM Symphobia 2