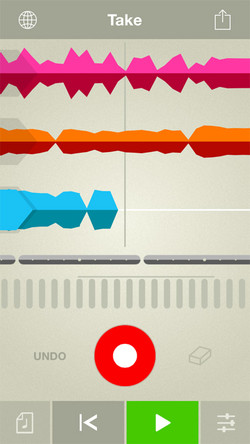 Propellerhead Software has released Take, a free creative vocal recorder app for iOS.
Take Creative Vocal Recorder is your instantly available vocal recorder that helps you capture your lyric or song ideas before they are gone. With state-of-the-art recording and audio processing, your recordings will sound amazing too!

Take has three separate tracks for recording your own audio, so you can create overdubs or harmonies. Or even record your guitar! Take also comes with a bunch of factory made backing track Beats to help you get inspired – or simply to help you keep the tempo.

Tune your recording to perfection with mixing and effects. When you are happy with the results, share your music with your friends online!
Take features
One-Tap Recording — With a single tap you'll be recording, beatboxing, overdubbing and creating song ideas to share with your friends or the world.
Loops & Rhythms — Kick-start your creativity—and stay in the groove—with built-in clicks, loops and beats.
Three Parts Per Song — Add new parts, double them up and create harmonies. Take gives you three tracks per song to sketch out your ideas.
Makes you sound great — Take's processing and effects will make your iPhone's built-in mic shine. Surprise yourself with how good you sound.
Share with Your Friends — Instantly share your song ideas with friends via Facebook, Twitter and email.
Take for iOS is a free download from the iTunes App Store.
More information: Propellerhead