Propellerhead Software has announced an update to its best-selling Rig Series Rack Extension and ReFill bundles for Reason 10.
Rigs 3 series bundles are designed specifically to fit any style of music you make, and now you can save over 75% with these custom-curated Rack Extensions.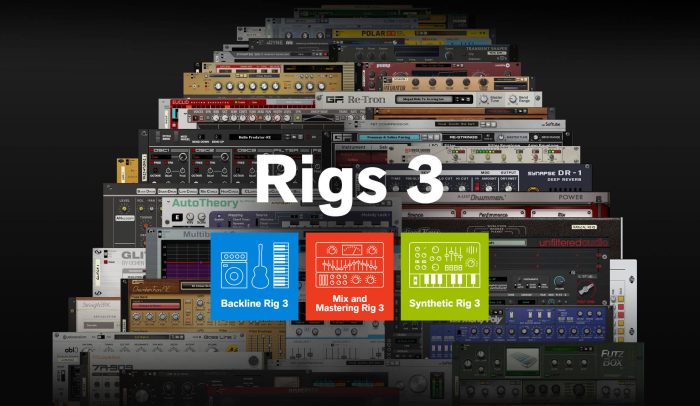 Rigs 3 offers a huge collection of 90+ hand-picked Reason Rack Extensions made by leading developers such as Propellerhead, Rob Papen, Softube, Korg, McDSP and more. Explore new sounds with hundreds of expertly crafted custom-made patches and develop as a music maker with hours of custom tutorial videos from ASK.Audio that will help you get the most out of your new products.

Save over $1350 on Rack Extensions and ReFills for the unbeatable price of $349 each, or upgrade from Rig 1 or Rig 2 for USD $99.
The Rigs 3 series includes:
Mix & Mastering Rig 3: Mixing and mastering engineers are some of the most passionate and demanding people about the signal chain their sounds pass through. Shouldn't you be too?

35 Rack Extensions / 1 ReFill / 70 Videos / 325 Presets.
Featured products: Softube FET-compressor, Selig DeEsser, Kratos 2 Maximizer.

Synthetic Rig 3: If you're the type of music maker who finds inspiration from the unique characteristics each synthesizer imparts to the creative process, then we've sure got some inspiration here for you.

29 Rack Extensions / 1 ReFill / 58 Videos / 476 Presets.
Featured products: Parsec, eXpanse, ABL3.

Backline Rig 3: The more music technology evolves and develops, the more prized the classics become for your sound. Rotary speakers, soulful keys, boutique amps, and vintage units transport your Reason rack to 1977.

30 Rack Extensions / 4 ReFills / 60 Videos / 339 Presets.
Featured products: StringWERK, ChamberTron, A-List Studio Drummer.
All bundles are available as direct downloads from Propellerhead's website, priced at 349 USD/EUR each. The upgrade from an earlier version is 99 USD/EUR.
More information: Propellerhead Software