Propellerhead Software has announced the launch of the Umpf Retro Beats Rack Extension, a new beat creation device that offers everything musicians need to make authentic old-school beats in Reason.
Umpf Retro Beats is an innovative drum machine featuring retro sounds and grooves sampled from classic drum machines.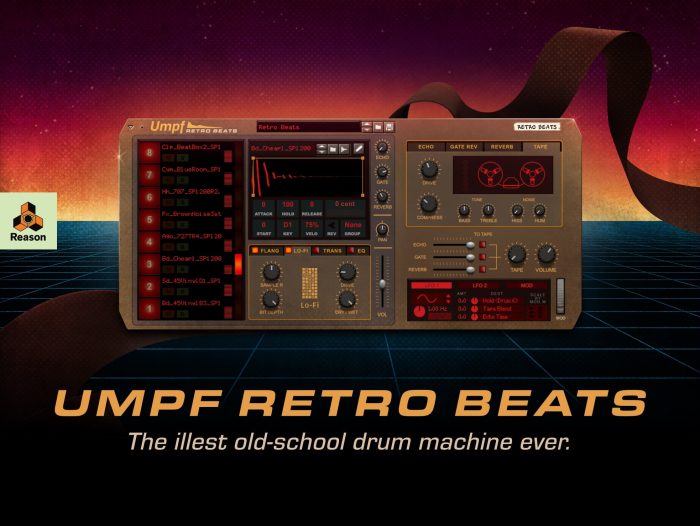 Perfect for 80s, Retro Pop and Synthwave-style beats, Retro Beats is loaded with over 750 samples, drum kit presets and authentic analog effects.
"For years, producers have had to dig through record crates or hunt down expensive vintage drum machines to create legit old-school beats," said Lukas Lyrestam, Product Manager of Propellerhead.

"With Umpf Retro Beats you can lay down authentic old-school beats right from your Reason rack. The intuitive interface and massive sample library make it easy to quickly dial in the perfect retro sound."
Umpf Retro Beats boasts over 750 vintage sounds and kit presets inspired by classic drum machines of the 80s and 90s. Retro Beats features eight drum channels with drag-and-drop sample loading and an intuitive dynamic waveform display customizing sounds. Retro Beats offers authentic analog signal processors including old-school tape, echo and gated reverb effects, as well as an advanced Modulation Matrix for chopping and screwing beats.
Partner Retro Beats with the complimentary drum sequencer for instant inspiration. Packed with dozens of unique patterns and rhythms, Drum Sequencer can instantaneously bring samples in Retro Beats to life.
Umpf Retro Beats is available for immediate download via the Propellerhead store for $99 USD / 99 EUR. It is also available via the Propellerhead Rent-to-Own Program for 9.99 USD/EUR per month.
More information: Propellerhead Software