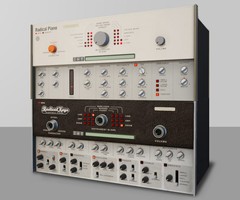 Propellerhead has introduced the Radical Instruments Bundle, a discounted bundle featuring the Radical Piano and Radical Keys Rack Extension instruments.
Radical Keys brings you three classic keyboard instruments in a great-sounding package: the Rhodes Mk1, the Wurlitzer and the Pianet-T. Radical Piano comes with three sampled pianos paired with the technology to make an infinite number of your own. A flexible and bendable piano that goes from ultra-clean to creakingly natural.

Thanks to Propellerhead's cutting edge Radical Engine, these instantly playable instrument have sonic capabilities ranging from the ultra realistic to the utterly outlandish.
The Radical Instruments Bundle costs 119 EUR (25% off individual prices).
More information: Propellerhead