Propellerhead Software has updated its Reason and Reason Essentials software to version 8.3, which includes new features, improvements and bug fixes.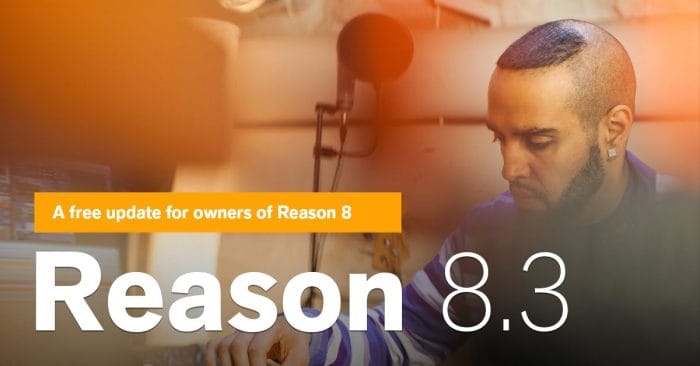 The new version of Reason packs a fantastic update to Reason's classic RV7000 Advanced Reverb, while also delivering a number of workflow enhancements that will help you work faster than before.

The RV7000 was praised for it's fantastic sound when it was introduced in Reason 2.5. Today it's getting an update with an advanced convolution mode that let's you use the reverb characteristics from actual spaces in your music. Or to go all experimental and conjure up your own reverb sounds based on any samples.
Changes in Reason 8.3
The detached rack window can now have a separate browser panel.
Added convolution mode to RV7000 reverb.
Zoom to Selection function for quickly zooming in on selected clips or notes.
Buttons for setting MIDI focus to a device directly from the rack.
The static value for an automated parameter is now adjustable in Arrange Mode.
Added fold button for Info area in browser.
Remote files for Akai MPK Mini added.
Removed outdated splashes shown when copying sound banks from DVD.
Increased horizontal zoom in Edit mode in all template songs.
In Manual Rec mode, Parameter Automation Rec Enables are no longer turned off when you select another track.
The template song chosen in the Setup Wizard should be set in the Preferences.
Mixer scrollbar no longer overlaps the channel strip name labels
Replaced "Beta Version" dialog on startup with label in splash (in Testing versions of the program).
Added tool tip for browse/clear button in Browser side panel.
Audio is now properly clipped to range [-1,1] when dropping to Propellerhead.
Assert Failure When Browsing Nested Folders Using Kong's NN-Nano Sampler Module.
Assert on duplicate many clips.
Authorizer could crash if it tried to start Codemeter service (Mac) and failed.
Assert on drag and drop of REX file to Dr OctoRex.
User statistics failed if Codemeter wasn't installed.
Reason and Authorizer now works with earlier versions of Codemeter (Mac).
Fixed a problem using network attached storage in Reason.
If Music folder was broken, Reason couldn't start (Unknown exception).
Corrected text field validation in Drop dialog.
3rd party RE patch files didn't show proper icons in Reason Essentials.
Having subfolders in the DiagnosticReports folder on Mac could cause Reason to crash.
New Authorizer version included (handles full disk better).
It wasn't possible to drop an NN19 patch on an NN-XT device in Reason Essentials.
The Windows installer now requires the channel.phat file to be present (avoiding broken auto-update).
Improved support for folder aliases and symbolic links.
Text parsing when importing MIDI files could cause unknown exceptions.
Reason 8 is available for purchase for 369 EUR. The Reason 8 Upgrade is 129 EUR. Reason 8.3 and Reason Essentials 8.3 are free updates to Reason 8 and Reason Essentials 8 users.
More information: Propellerhead Software / Reason 8