Propellerhead Software has announced the release of Reason 10.3, an update to the music production software for Windows and Mac.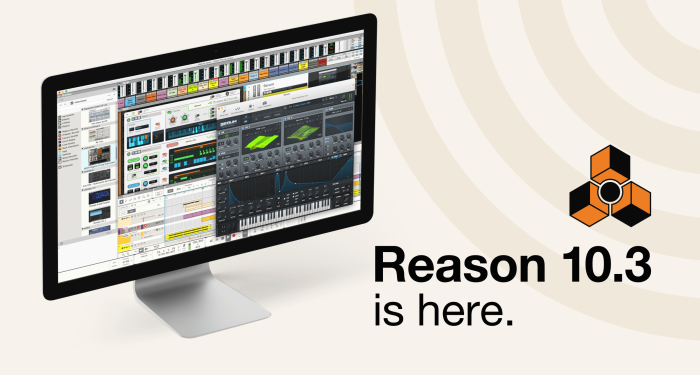 Reason 10.3 is the much anticipated "performance update", a big rewrite changing how Reason handles buffer sizes to work how VST plugins expect a host to work. There's now a setting in Reason's audio preference to "Render audio using audio card buffer size setting" that is on by default. But what does that mean in practice?

When making music, your computer can now handle more VST plugins before experiencing issues (like clicking and popping) on buffer sizes higher than 64 samples. Depending on the plugins used, the improvements you'll see can vary a lot. In our testing we've seen improvements from a measly 10% to well over 200% when using a buffer size of 512 samples. You might see even bigger improvements on larger buffer sizes, but of course a larger buffer size has other downsides like latency.

Now that we've had a month of beta testing I can also say for certain that even if you don't use VST plugins, you'll see performance improvements using Rack Extensions and internal devices too. As an example, the Reason 10 demo songs run 10-50% better on our testing machines using a buffer size of 512 samples.
Changes in Reason 10.3
Big parts of Reason's audio rendering code is rewritten, now rendering audio using audio card buffer size (instead of a fixed size), to improve performance.
New preference to enable the new audio rendering improvements (on by default, turn off for compatibility reasons).
Removed "CPU Usage Limit" from Reason's preferences.
Fixed a bug in the effects section of Europa and Grain.
Fixed a bug in Grain that could cause it to crash when changing patch.
Fixed an issue where macOS would say Reason was "not optimized for your Mac and need to be updated".
Various bug fixes and improvements.
Current users can launch Reason 10 and auto-update to the latest version. All Reason trials have been reset so you can check the improvements with a 30-day trial.
More information: Propellerhead Software