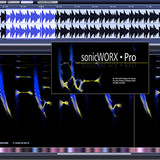 Prosoniq has announced sonicWORX Pro, a totally new approach to audio editing.
sonicWORX Pro uses the latest advances in Digital Signal Processing to access your audio material in a totally new way allowing you to view and edit audio at an unprecedented resolution. Working in tandem with intelligent pattern detection used for signal separation and realtime mouse-over preview our innovative time-frequency transform technology helps to quickly identify, select and isolate interesting features in a mix, such as individual notes, instruments and voice. An incredibly versatile tool that allows both micro-editing as well as easy suppressing, extracting or processing instruments within a mix for remixing, mastering or restoration.
sonicWORX Pro pricing and availability will be announced at Musikmesse in April.
Prosoniq has also announced that RTAS and VST products as well as new AudioUnit versions are expected to be available in Q4 of 2009. Furthermore, the decision was made to discontinue its products for the Windows platform.
From the news page:
Bernhard Bouché, CEO at Prosoniq says that the Windows platform, though having a larger market share, has become increasingly unattractive due to the widespread availability of pirated Prosoniq products.
Visit Prosoniq for more information.