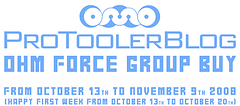 Ohm Force and ProTooler Blog have teamed up to bring you a special Ohm Force Group Buy.
Stiff @ ProTooler writes:
I'm also proud to say that for the first time A bundle has been named after me. The Stiff Favs Bundle consists of the badass delay Ohmboyz and the killer multiband distortion Ohmicide. If you don't trust my judgement you can buy any of the single Ohm Force plug-ins, and if you have some serious Ohm cravings you can buy any regular bundle.
Great bundle Stiff! Incidentally, these are my favorite two Ohm Force plug-ins as well.
The Group Buy starts today (October 13th) and ends at November 9th 2008. The final discount could go up to 50% on various products and bundles.
For those who sign up in the first seven days of this group buy, the "Happy First Week", there's going to be 2 additional discount levels at the end. So if the group buy ends at 35% discount, you'll still get 50% off.
More information: Ohm Force