Pulsar Audio has launched its Mu audio plugin, an effect that is designed to reproduce the sound of a vintage variable-bias compressor.
A faithful emulation of the legendary Manley Variable Mu tube compressor/limiter, Pulsar Mu aims to deliver the perfect glue for mixing and mastering.
There are several reasons to use a variable-bias tube compressor. One is the exceptional compression transparency that this kind of compressor can achieve, even when pushed into extreme gain reduction. Another – and perhaps the most common – is their ability to add cohesion or "glue" to buses, whole mixes and masters.

Unfortunately, the original hardware is expensive and difficult to integrate with "in-the-box" workflows. Software emulations exist but most owners of the hardware agree that they cannot be compared to the original unit, as there's always "something" missing.

With its unique Topology Preservation Technology, Pulsar Mu sounds objectively identical to the hardware in every production context, and even makes improvements such as an increased signal-to-noise ratio.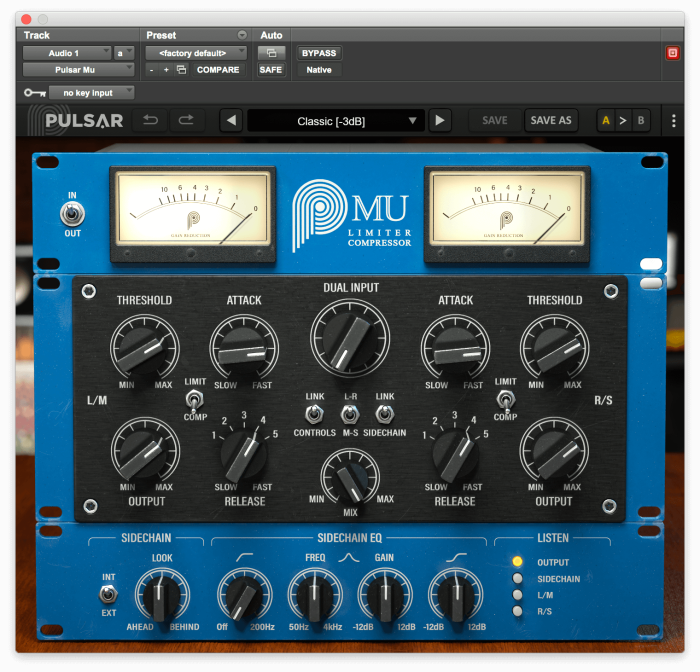 Pulsar Mu features
Mid/Side processing.
External Sidechain.
Flexible Sidechain EQ.
Look ahead, look behind.
"Modern" GR visualization.
Low CPU consumption.
Customizable antialiasing.
The plugin is available for purchase for the intro price of 49 EUR for a limited time at Pulsar Audio and distributor Plugin Boutique (regular 99 EUR). It comes in VST/VST3, AU and AAX formats.
The offer expires October 26th, 2019.