Puremagnetik has announced the release of the Puremagnetik Ten Pack, a 3GB bundle for Ableton Live, Kontakt and Logic, in celebration of its 10th anniversary.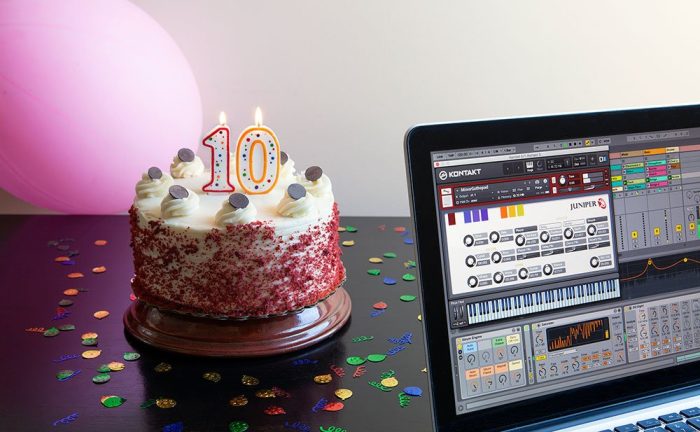 This month, Puremagnetik turns 10 years old. To celebrate the occasion, they have hand-picked a selection of the finest sounds across the entire spectrum of their catalog.

Ten Pack includes vintage analog synths, circuit-bent drum machines, vintage organs, glitchy chip sounds and pianos. That's over 3 gigabytes and thousands of samples, the rest of this week, for only $10.
Puremagnetik 10-Pack features
Comput0 : Beats — A collection of rhythms built from the raw sound design power of the Csound programming language.
Phazeform Vol 2 — CZ-1 phase distortion patches, the complete tonal bank from the original SK-1 and a ton of percussion elements.
Devil07 — A lifelike emulation of the classic Roland TR-707 as modified by Diabolical Devices with ring modulation, filtering, distortion and doubling type effects.
Vector — Vector instantly turns Live into a full blown production workstation that includes a huge library of wave sequences, attack transients and vector morphing. *for Ableton Live only.
Vintage Organs — Vintage Organs Volume 1 is the first in a series of organ Micropaks by Puremagnetik. This collection includes 2 classic Ace Tone models – the GT7 and the Phenix Top-4.
Grainscapes — A collection of haunting, granular synthesized cinematic textures and ambiences for scoring or sound design applications.
Analog Automata — A collection of looped bass, percussion and texture clips sourced from a wide variety of analog modules.
PM-8910 — Captured entirely from an original General Instruments AY-3-8910 three-voice programmable sound generator, PM-8910 is packed full of goodies for old-school gaming and chip sound enthusiasts.
Juniper Part 2 — Juniper Part Two is a collection of expertly crafted instruments based on Roland's legendary Jupiter 6, 8 and MKS analog synthesizers. It adds over 700 high quality multi-samples to your Juniper library.
Phonik — Phonik brings the celebrated Roland Paraphonic-505 right to your desktop. It includes the famous Orchestral and Synth sections.
The Puremagnetik 10 Pack is available for $10 USD for a limited time only.
More information: Puremagnetik / 10 Pack