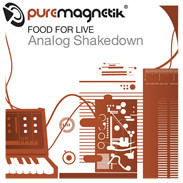 Loopmasters has released Food For Live – Analog Shakedown, a bundle of Ableton Live sound libraries by Puremagnetik.
Analog Shakedown will instantly transform your Ableton Live library into a comprehensive showcase of modern and classic analog synthesis. Analog Shakedown includes a richly programmed collection of sounds from the following Puremagnetik Micropaks
Food For Live – Analog Shakedown
Vespine – Expertly tailored programs that fully capture the characteristic charm of the legendary EDP Wasp synthesizer.
HarvestPak – Multisampled instruments programmed exclusively from The Harvestman synthesizer modules.
String Machines – A lush collection of sounds recorded directly from the classic stringers of the 1970's.
Analog Drums – A collection of percussives captured from modular analog systems.
Analog Bass Volume 1 – Multisampled programs direct from classics such as the Minimoog, Roland TB-303, ARP 2600 and the Doepfer Modular.
Analog Bass Volume 2 – A complete bass sound set focused entirely on the classic KORG MS-20.
Food For Live – Analog Shakedown (requires Ableton Live 8.2+) is available to purchase for £17.95 GBP.
More information: Loopmasters / Food For Live – Analog Shakedown