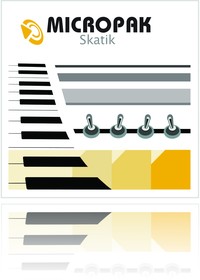 Puremagnetik has announced the release of Skatik, a collection of instruments, sound effects, percussion kits and looped digital freak-outs sourced from a heavily circuit bent Casio SK-5.
The most interesting on-board sounds have been multi-sampled and then recorded in circuit bent variations. The system sampling engine was exploited for it's lo-fi specification (8bit/9khz) and then under-powered to create exceptionally textured sound effects and percussion kits. At one point during Puremagnetik's modifications we unlocked a mysterious tweak that caused the internal SK-5 sequences to re-arrange themselves randomly and to loop irregularly. These bizarre tonal oddities have been meticulously looped and programmed into three large instruments for endless experimentation.
Skatik features
A complete circuit bent Casio SK-5 synthesizer emulation.
Hundreds of high quality samples.
Ableton Live Racks with precise incremental controls.
Kontakt KSP easy edit GUI.
Logic EXS version includes Channel Strip Settings with Logic effects.
EXS Universal file format for easy importing into any audio host.
Statik is now available to download for Puremagnetik subscribers.
More information: Puremagnetik / Skatik