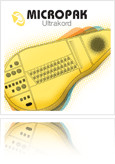 Puremagnetik has released Ultrakord, an electronic instrument inspired by the extraordinary sounds & strumming interface of the Suzuki Omnichord.
An Omnichord is an electronic musical instrument, introduced in 1981 and manufactured by the Suzuki Musical Instrument Corporation. It typically features a touch plate, and buttons for major, minor, and diminished chords. The most basic method of playing the instrument is to press the chord buttons and swipe the touch plate with a finger or guitar pick in imitation of strumming a stringed instrument.

Puremagnetik has taken the Omnichord concept to a new level, building a sophisticated adaptation of a truly classic instrument.
Ultrakord features
Sampled Strums of all 84 Chord Variations for One-Finger-Play.
Multi-sampled Bass and Melodic tones.
Individual instrument modules as well as combined multi-channel instruments.
Over 30 Loops of new accompaniment patterns.
Custom Ableton Racks, Kontakt KSP GUI and Logic Channel Strips.
Ultrakord is now available to Purmagnetik subscribers ($5.75 USD/month, $60 USD/year, $299 USD/All Access Pass).
More information: Puremagnetik / Ultrakord