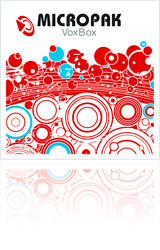 Puremagnetik has released VoxBox, a sound design toolkit of multisampled vocal menus, instruments and looped phrases.
VoxBox has been developed as a one-stop solution for instrument building and sound design applications that require vocal timbres. Whether you wish to construct standalone voice programs or to layer vocals into existing sounds, VoxBox provides the raw material for patch thickening and harmonic variations.

The VoxBox menus and looped phrases are equally suited as ready to play without further processing. Simply load up one of the tempo synced clips or play the one-shot phrases as you would any other instrument. VoxBox integrates perfectly into your Live session and other supported platforms.
VoxBox features
24-bit female and male vocal articulations.
Unique assortment of stylized looped phrases.
Complete Ableton Live integration with advanced Macro programming.
Custom Kontakt KSP GUI and native Kontakt effects.
Includes sound design example patches for various instruments types and timbres.
VoxBox is now available for download for Puremagnetik subscribers (subscriptions starting at $5.75 USD/month).
More information: Puremagnetik