pureMix has launched a limited time offer on the Analog & Digital Mixing Bundle, featuring over 4 hours of learning from the master of both analog and digital mixing.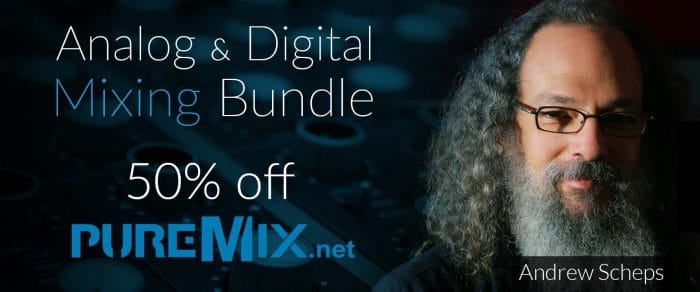 Grammy award-winner Andrew Scheps mixes Ziggy Marley's Fly Rasta from start to finish TWICE!

First see how he crafts an analog mix across two Neve consoles using his famous wall of gear – then see how he mixes the same song again but completely inside Pro Tools.

This is a learning experience you won't find anywhere else. You'll not only learn the techniques and tricks Andrew uses on all of his mixes but you'll get to see and hear firsthand how he brings his analog mindset to a digital workflow.

Plus you can download the stems from the session and put your new knowledge into practice right away.

Don't miss this chance to learn from the most respected mixing engineer in the industry, get both full-length tutorials for only $41 from pureMix.net today.
The sale ends March 13th, 2016.
More information: pureMix / Analog & Digital Mixing Bundle