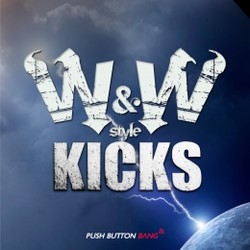 Push Button Bang has launched W&W Style Kicks, a collection of kick drum samples for electronic music production.
W&W Style Kicks recreates the sought after modern kick sound of artists such as W&W, arming you with hundreds of variations for easily creating your own huge, main stage signature kicks.

The kicks have been hand crafted to be instantly usable in modern main room house, techno, hard style and more.

The collection uses well shaped hard, attack transients on the initial clicks, combined huge variety of saturated tails from subtle to the extreme. These elements are guaranteed to get your kick drum right in the mix and give your track the strong foundation it deserves.
W&W Style Kicks features
180 Kick Drum Samples

30 Code Style Kicks—Kicks similar to those found in W&W productions such as "The Code" and Thunder.
90 Dynamic Main Room Kicks—Many variations on the typical main room modern kick sound, each featuring individual dynamics and compression.
30 Hardstyle Fx Layer Kicks—Harder versions with experimental saturation, for sound design and interesting cuts.
30 Stereo Mid Hi Kicks—These kicks are MONO up to around 1.5. kHz, with the mid hi range affected with subtle forms of stereo processing and saturation.
The sample pack is available from Loopmasters for £9.95 GBP.
More information: Push Button Bang / W&W Style Kicks