Pyramind has announced it is offering a deep discount on its online training for the next month.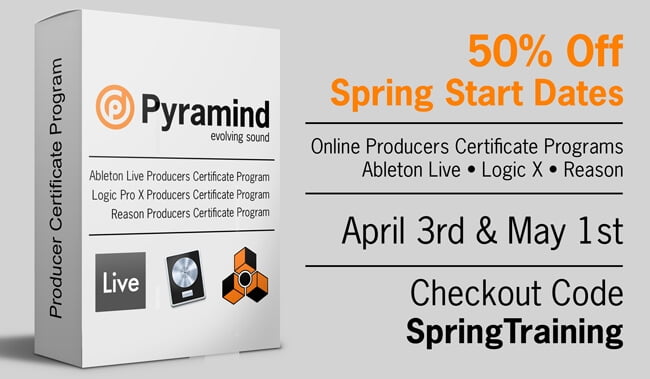 Would you love the opportunity to save some money, and really learn that DAW of yours at the same time?

That's why we are launching our Spring Training sale today. For a limited time we are offering you 50% off of the price of any one of our Online Producers Certificate Programs starting April 3rd and May 1st.

Become an expert on your favorite DAW!
All of our online courses feature exclusive and in-depth videos, access to the same online learning system we use here at our ground campus, as well as monthly online webinar lectures and individual video feedback on your homework assignments from the teacher.
Spring Training Sale
Save $1,747 on our popular Ableton Live Producers Certificate Program. This six-course, one-year program takes you from basic to advanced training on the software tool itself, music theory, synthesis and sound design along with mixing & mastering in Ableton Live.
If Apple's Logic Pro X is your DAW, then sign up today for the Logic Pro X Producers Certificate Program and save $1,247 on the four-course, nine-month program. Learn beginning to advanced DAW techniques, as well as sound design and a course dedicated to mixing and mastering in Logic Pro X.
And for the Propellerheads Reason users out there, you can take our three-course, nine-month Reason Producers Certificate Program for only $497.50! Learn the ins and outs of Reason, learn the art of sound design as well as a course on mixing and mastering.
The offer is valid for producer certificate programs only, not individual courses.
More information: Pyramind