Subscription-based sound design service Pyro Audio, offering producers curated percussion sound packs each month, has released its fourth limited-edition sound pack.
Volume 4: AXLES explores the complex audible layers of axles — the crux of wheeled and rotating objects.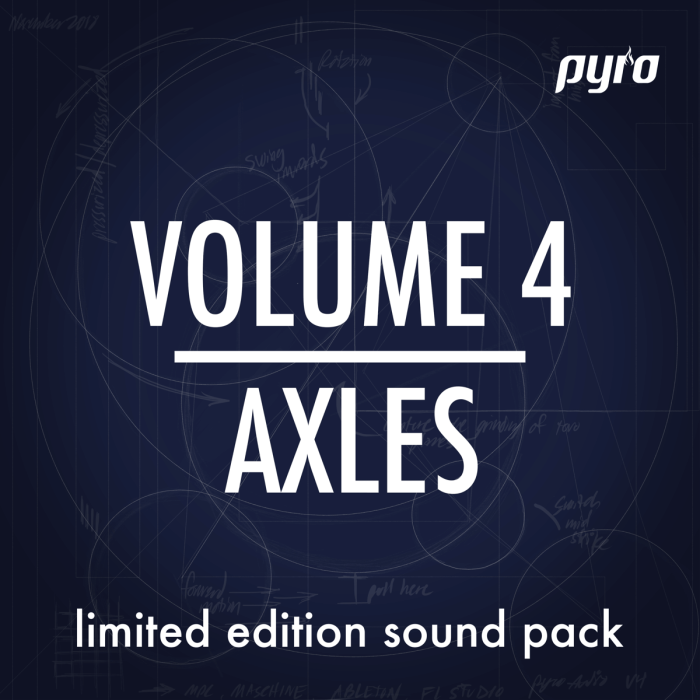 With this fourth volume of its subscription-based service, Pyro Audio continues to provide members with a new, unique set of sonic tools at the start of each month by offering a users a greater variety of vivid, beat-centric percussion sounds, keeping producers in constant discovery mode, and helping spark creativity that inspires new music.
"We started Pyro to help music creators escape traditional workflow methodologies and inspire new cycles of creativity," commented Eric Palonen, Founder of Pyro Audio.

"Our sounds are totally unique in the market and curated on different themes each month, never to be made available again. Now, for a fraction of the cost of a piece of software or audio equipment, producers are able to access sounds that will help inspire new directions."
Available either for a zero-impact annual subscription price of $14.99 USD per year, or month-to-month for just $1.79 USD, Pyro Audio sound packs harness the explosive creative power of the producer's "first listen," offering users completely original percussion sounds and growing their audio sample library, with automatic delivery.
Sample packs are downloadable in .WAV file format used by all popular samplers and Digital Audio Workstations, including MPC Software, Maschine, Ableton, FL Studio, among others. Once downloaded, Pyro Audio sound packs can be used forever, royalty-free.
And since Pyro Audio permanently archives each volume at the end every month, subscribers continually amass an arsenal of unique sounds that can be used alongside any of the stock sounds available with samplers or sampling software. This gives Pyro subscribers the ability to craft a completely one-of-a-kind style using boutique, limited-edition percussion samples, setting Pyro Audio users apart from producers who can often get stuck in the rut of using the same old standard audio samples.
To get music producers out of the rut this November, Pyro Audio's fourth sound pack, AXLES, explores the sonic intricacy of mechanical axles in motion, first dissecting, and then amalgamating these audible layers with essential instruments for beat production to yield otherworldly samples that encourage experimentation.
The sound pack features 66 all-new sounds that will add an extra gear to any producer's creative process with sounds from hand-selected devices with distinct sonic character, including electronic motors, utility wheels, pressurized soda bottles, antique door knobs, and kitchen utensils — all of which are just a small cross-section of the AXLES captured and then dissolved into percussive base samples. From loaded springs to latch impacts, Pyro Audio Volume 4: AXLES is full of organic sound design.
Using a variety of sound layering techniques, AXLES incorporates a wide variety of rooms and mic'ing distances to broaden the desirable noise component of each sound, ultimately arriving at samples with inimitable sustain and decay characteristics.
AXLES is a limited edition sound pack, and will be archived at the end of November 2018, never to be sold or distributed again.
More information: Pyro Audio