Q Up Arts has announced California Keys, an exquisite collection of keyboard instruments for Native Instruments Kontakt Player and Kontakt.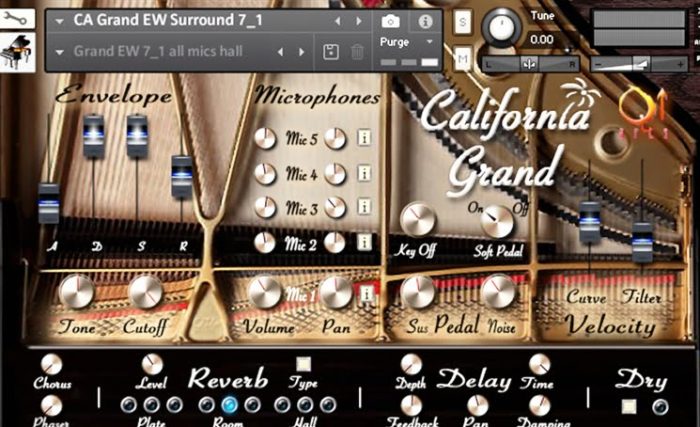 Can you hear and feel the difference between a $20,000 mass-produced grand and our $300,000 hand-made Fazioli 10-foot grand? The answer is unequivocally YES.

Deeply sampled velocity layers from the quietest ppp to fff, this piano is for the sensitive, articulate and advanced player desiring a level of expressivity previously not offered by any other sampled piano.

We went so far as to record the fourth pedal which brings the hammers to within an inch of the strings for the quietest playing possible.

The singing quality, perfect harmonic effects, power, sonority, subtlety and nuance of this piano are unparalleled. These qualities will bring out the best player in you.

We've created this suite of keyboards for professional keyboardists, composers and producers. This focused bespoke collection features Wurly, Rhodes, Hammond, Vox, Farfisa and Clavinet. Decades of surveying and listening to keyboardists led us to this lovingly curated collection of sounds that work beautifully together. Instruments curated by Arlan Oscar and Ken Rich of L.A.
California Keys features
Includes California Grand, Wurly, V-Organ, R-EPiano, H-Organ, Clav, F-Organ.
Recorded with 10 different microphones in 192k, 24 bit – Delivered in 44k 24 bit with all microphones.
Native Instruments NKS Kontrol fully implemented.
8 fully discreet channels, with fully user adjustable volume and pan per channel.
7.1 Surround presets (choice of two different side mic types) with fully discrete user adjustable channels.
5.1 Surround presets with fully discrete user adjustable channels.
1 mono close mic over hammers, 2 stereo close mics over hammers, 1 under mounted bass mic, 2 side mics in classical ORTF position, 2 rear room mics, 2 front room mics.
Piano recorded by Robert Abeyta and played by Candace Winterton, keyboards recorded by Douglas Morton and played by Arlan Oscar.
Kontakt programming and scripting by Michael Scott.
California Keys is available for purchase as a download for $299 USD. It is also available on a surfboard USB (+ download) for $349 USD, free 3-day shipping in the USA.
More information: Q Up Arts