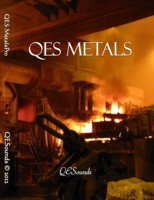 QESounds has announced it has released the remainder of the QES Metals RAW series of sound libraries for Native Instruments Kontakt.
The QES Metals RAW series is intended to be used as source material for those doing sound design as well as turnkey acoustic SFX for inclusion in Film/Video/Gaming soundtracks.

QES Metals RAW2 – Metals on Dry Ice and Miscellaneous
QES Metals RAW3 – H2OPhone
QES Metals RAW4 – Galvanized
QES Metals RAW5 – Scrapes
QES Metals RAW6 – Galvanized Extended

The one-shot sounds can be used as is for SFX, processed by your favorite Fx/mangling chain or the .wavs can be imported into your favorite re-synthesis, spectral synthesis, convolution, or granulation engine. The format is 24 bit, 44.1KHz, Stereo, .wav samples.

QES Metals RAW includes Version 3 scripting – including: Convolution (110+ IRs) – Global Stereo Image Control, Global EQ, XFade Mode, Layers Mode, Four Modes of Envelope Assignment/Control, and Stereo Image Control for individual sounds.
The QES Metals RAW series of sound libraries for Kontakt 4 and 5 are available to purchase for $33.33 USD each. QES Metals 1-6 and QES Metals Lite are available in a special priced bundle (on DVD or DLV) on the QESounds bundle page.
Visit QESounds for more information.