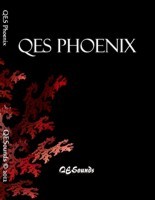 QESounds has announced the release of QES PhoenixB, a sound fx sample library for Native Instruments Kontakt.
QES PhoenixB is a series of libraries based on 4th and 5th generation sounds – complex – layered – heavily convolved and granulated. The tone and feel is bigger and more aggressive than the ARFx series. All sounds originate from real world sources.

QESounds is known for slightly weird and subtly weird sounds. The QES Phoenix series steps it up a notch or three – with more notches to come. We're throwing the kitchen sinks of sound design into this series – convolution synthesis, spectral and amplitude morphing, reversed/mirrored processing, FM and AM, static and dynamic granulation, pitch and time stretching, "motion", stereo manipulation, layering, delay based Fx and more.

QES PhoenixB steps it up couple more notches – it is more intense than and more heavily layered than QES Phoenix – with a large population of deep effects, motion effects and "plosives".
QES PhoenixB features
10 non-pitched instruments and 40 pitch varied instruments (Time Machine Pro) with a total of 880 sounds.
V4.4 scripting – which includes global EQ, global convolution, user control of envelopes, EQ and stereo image for each sound and the ability to Save/Load all settings to/from user specified files.
Suitable for Film and Gaming soundtrack design as well as live venue. It is synergistic with Adventure/Fantasy, SciFi, Horror, and Drama genres.
Available in 44.1 KHz and 48 KHz versions, Kontakt 5.03+ compatible (Mac and PC).
The sample library is available as a download for $59.95 USD and on DVD for $69.95 USD.
Visit QESounds for more information.