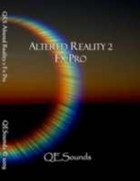 QESounds has released Altered Reality 2 FX, a sample library for Kontakt.
Altered Reality 2 Fx is the second installment in the Altered Reality Fx series. AR2Fx is a bit darker and damper than AR1Fx and has more event/transient Fx.

AR2Fx is a collection of original sounds that have been modified in a number of ways. All of the sounds started out as real-world objects and instruments – some with alternate performance and all with extensive modification. The techniques used to alter the sounds include pitch stretching, convolution, x-fading, sample reverse, spectral morphing, EQ, AM, stereo image manipulation and various other means. No synthesis, re-synthesis or granulation were used. Each sound is assigned it's own group so that the user can tailor each
sound to their own needs/tastes individually. AR2Fx is targeted at ambient and atmosphere design.
Altered Reality 2 FX is available in various versions:
Individual downloads of single instruments/combos in 16bit/44.1KHz/Stereo. Price: $8.33 USD each.
Downloads of packs/modules of three instruments/combos in 16bit/44.1KHz/Stereo. Price: $24.99 USD each.
2-DVD set containing all instruments/combos—and a separate time/pitch-stretched instrument for about 99% of the sounds in 24-bit/44.1KHz/Stereo. Price: $99.95 USD.
All three versions include scripted SoundTools, Virtual Layer Remapping scripting and an extended set of convolution presets.
QESounds has also released AR2Fx Freebie, a set of 41 sounds not released in the other AR2Fx packages is also available for free (191 MB download ZIP file).
Visit QESounds for more information.