Qneo has announced that it has released a macOS version of its Voice Synth vocoder app for iOS.
Version 5 of the Voice Synth sees the introduction of Audio Units V3 for use in DAWs as instrument and effect. The macOS version is preset compatible with iOS.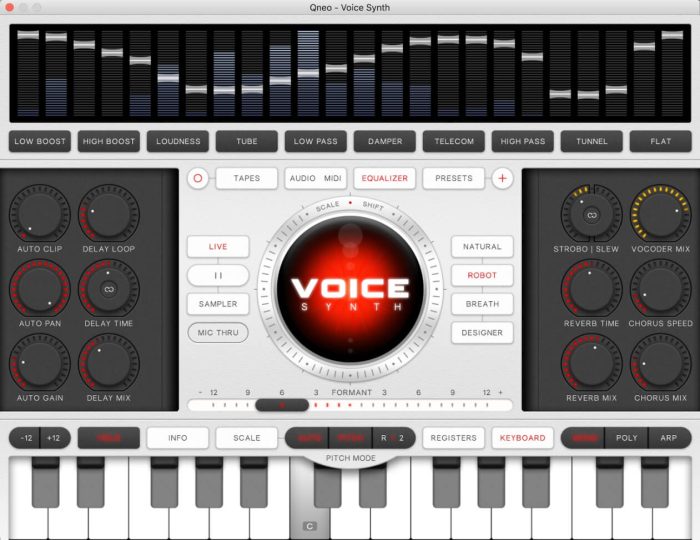 Voice Synth is a professional live instrument to create incredible new voices, choirs, sounds and soundscapes, based on your own unique voice. Take a journey into sound design and discover the endless possibilities: Speak, sing, hum and beatbox in the mic, to turn your voice live into a baby or tenor, a popstar on AutoPitch, a robot from Cylon to iDalek, a church or close harmony choir, animals from birds to dogs and lions, musical instruments from organs, guitars and a groovy bass to percussions and rich 70's vocoders, amazing effects and ambient, lush string/storm soundscapes.

To get you started, we included over 250 factory presets! Play and tweak with four 24-band live vocoders, live-pause your voice, AutoPitch, Audio Units V3, audio routing, midi, sampler, multiple voice harmony arranger, spectrum stroboscope, pitch and formant shifter, 24-band equalizer, distortion, delay, chorus and reverb, and a voice designer with oscilloscope. The free version of Voice Synth provides presets and functionality by in-app purchases with a free try-out.

Musicians, DJs, sound designers, voice artists: Voice Synth is a must-have in your audio toolbox! Voice Synth is available on the iOS and Mac App Store, and has a dedicated interface designed for iPad/Mac, and a compact interface for iPhone/iPod Touch that includes all features so you can create anywhere you go.
Changes in Voice Synth V5
Audio Units V3 for use in DAWs as instrument (sampler mode) and effect (live mode).
New macOS version, preset compatible with iOS.
iPhone X support.
Choose audio route (input & output on macOS, input only on iOS).
Compatibility with output-only bluetooth speakers.
Connect directly with bluetooth midi devices (without need for a 3rd party app).
Minor changes input/output gain trimming, mic thru on/off.
More than 50 new presets, 250+ in total.
Modular version:

Permanent and more functional free try-out.
Sampler and Designer are now included in "Instrument" module, also for existing customers.
Voice Synth for macOS 10.13.5 or higher is available from the Mac App Store for $17.99 USD.
More information: Voice Synth