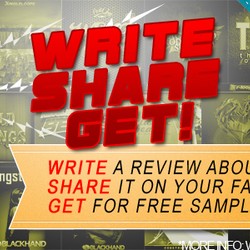 R-loops has announced its Write Share Get! promotion, an opportunity to get a free sample pack.
Write a short review about r-loops shop, share it on your facebook profile, make a print screen your review and send it on support@r-loops.com then on your address email will be sent promotion code to download a one commercial sample pack for free!.

Review must consist of at least two phrases, and include name our shop : r-loops.com. The best reviews will be further rewarded. Remember this promotion is limited so first come first served!
More information: R-loops