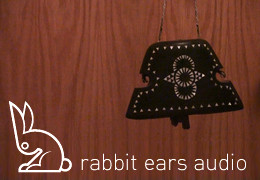 Rabbit Ears Audio has released Animal Bells, a sound fx sample library.
REA_008 is a collection of sounds meant to be grazed on, but be careful you might alert others you are near! This library features 16 Animal Bells made out of variety of materials. The materials include, brass, bronze, common metals, wood, animal horns, and even some gourds. So just imagine: ding, clank, ring, twack, rattle, clunk, click, and who doesn't love gourds?

This library is also a collaboration with Toronto based sound editor, John Loranger. John got in touch when he had a need for some animal bells and heard about a unique private collection in the states. After we both saw the collection, we knew it was worthy of a thorough session.
Animal Bells is available to purchase in two editions:
Animal Bells Hi-Res+

$70 USD: 24 Bit 192 kHz / 16 Bells, 1000+ sounds / 4.38 GB download, 7.92 GB unrar'd.

Animal Bells Hi-Res

$50 USD: 24 Bit 96 kHz / 16 Bells, 1000+ sounds / 1.95 GB download, 3.83 GB unrar'd.
More information: Rabbit Ears Audio / Animal Bells