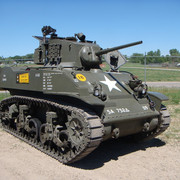 Rabbit Ears Audio has released Military Vehicles, a sound fx sample library.
5 Tanks, 2 Armored Personnel Carriers, 3 Days, and 1 Military Library!

Military Vehicles is a collaboration between Rabbit Ears Audio and Rob Nokes of Sounddogs.com. Over the course of 3 Days we recorded almost non-stop with the help The Fort Snelling Military Museum in Minnesota. They were kind enough to open their doors and their tanks to us.
Each vehicle is available for purchase individually or the library can be purchased as a complete collection at a discounted rate.
More information: Rabbit Ears Audio / REA005 Military Vehicles