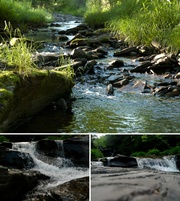 Rabbit Ears Audio has released REA007 Brooks Streams Waterfalls, a sound fx library.
REA 007 is a celebration of moving water in nature. From small trickles to rushing torrents, Brooks Streams Waterfalls is for those who need a variety of water movement in their library.

Locations were chosen based on their variety of elements. Water sounds most unique when it has something to pass through that changes its flow. The brooks and streams in this collection feature currents that are shaped by rocks, boulders, and downed trees. The waterfalls chosen range from small falls fed by babbling mountain brooks to large rushing waterfalls fed by strong relentless currents.
Brooks Streams Waterfalls features
45 files that clock in at 68 minutes.
Tracked on a Sound Devices 744T with a Cooper CS-104 as the front end. Both Schoeps (MK4/MK8) and Sennheiser MKH (30/40) Mid-Side pairs were used. The Schoeps were the "go to" pair, but the MKH's got a workout as well.
24 Bit 96 kHz, 2.66 GB download, 3.77 GB unrar'd.
REA007 Brooks Streams Waterfalls is available to purchase for $50 USD.
More information: Rabbit Ears Audio / REA007 Brooks Streams Waterfalls