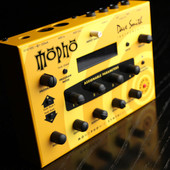 Ramjet Productions has released a free sample pack featuring sounds from the DSI Mopho synthesizer.
These are 8 high quality samples from DSI Mopho – amazing little synth.

Ideal for bass, leads or chords and can be easily imported into your favourite sampler ( Ableton Simpler/Sampler, Beatstation etc) Samples are 44khz 16 bit sampled at middle C.
The DSI Mopho sample pack is royalty free and can be downloaded from Ramjet Productions.
Visit Ramjet Productions for more information.