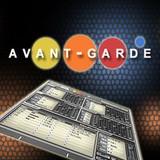 Random Wave Music has released Avant-Garde, a collection of patches and a GUI set for the Z3TA+ virtual synthesizer instrument by Cakewalk.
The Avant-Garde sound bank contains 128 new Programs further expanding z3ta+'s sound pallet by offering new vintage and modern electronic music style synth sounds. Included in the Avant-Garde sound bank are evocative atmospheric soundscapes and moods, analog-digital hybrid pads, classic electronic music style arpeggios, vocal based sounds and a variety of different synths. There are also several lead, bass, keys and effects sounds included to round out the collection.

To coincide with the release of the Avant-Garde commercial sound bank for Cakewalk z3ta+, a new GUI skin was developed by Random Wave Music to accompany the 128 new Programs exclusively.
Avant-Garde features
128 new Programs in .128 file format.
Banks provided in standard 1.0X and 2.0X oversampling playback quality versions.
20 additional single-cyle waveforms (used in creating the new Avant-Garde Programs).
Avant-Garde GUI (2 versions included: "New" and "Used").
Documentation including Manual, Program List and Licence Agreement.
Avant-Garde for Z3TA+ 1.5.3 is available to purchase for the introductory price of $6.50 USD.
More information: Random Wave Music