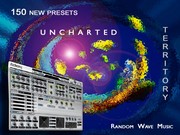 Random Wave Music has released Uncharted Territory, a sound bank for Camel Audio Alchemy.
Camel Audio Alchemy is renowned for its pad sounds in addition to creating otherworldly soundscapes and sound effect textures utilizing the Additive, Granular, Sample, Spectral and VA synthesis engines in combination. Uncharted Territory takes full advantage of Alchemy's multi-synthesis engines to produce a wide variety and tonally diverse collection of sounds. Uncharted Territory contains 150 different presets ranging from digital and analog pads and synths, to evocative soundscapes and effect textures. Some unusual vocal based sounds are also included in the Uncharted Territory set.

Uncharted Territory is developed using the Alchemy multi-synthesis engines in addition to the factory and factory bonus sample content 1, 2 containing roughly 5GB of pre-installed sample material to draw from! This provides a fast download and easily manageable sound bank ready to use as only the new Presets are required to use Uncharted Territory.
Uncharted Territory features
150 new Presets in native .acp file format (1200 Variations)
All Presets developed using the factory, factory bonus sample content 1, 2 and 3.
Mapped pitch bend wheel, velocity, aftertouch and knob control assignments for further expression.
Sound categories: Bass, Loops, Pads, Sound Effects, Soundscapes, Synth and Vocals.
Genres: Experimental, Ambient or Electronic Music, Soundscape or Soundtrack work, Avant Garde beds, bridges and fills, Atmospheric elements or for adding more Sound Effect textures, Pads and Synths to your sound pallet.
Uncharted Territory for Alchemy 1.12.22 or higher (full version of Alchemy required) is available to purchase for $14.50 USD.
More information: Random Wave Music