Rane has announced the MP25, a USB club mixer with audio interface.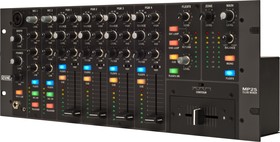 The MP25 satisfies the audio and ergonomic demands of performing DJs, in a 19" rack format preferred by nightclubs, with a compact 4U design that drops easily into a mobile rig. Sporting two microphone inputs, four studio-grade phono preamps, four analog aux inputs, four low-latency stereo USB inputs, analog and USB effects insert loops, and a variety of analog and digital outputs; the MP25 remains rooted in analog tradition while reaching new heights of digital connectivity.

Integrating a twenty-two channel USB audio interface, the MP25 enables simultaneous playback of four stereo sources, recording five stereo channels, and inserting computer-based VST effects. Reliable, low-latency, multi-client ASIO and Core Audio drivers interface the MP25's twenty-two USB audio channels directly to your favorite multi-track mixing, beat-making, looping, effects, and recording applications. Additionally, the MP25's front panel controls are MIDI enabled, allowing manipulation of software parameters directly from the mixer's control surface.

The MP25 also features Rane's powerful FlexFX architecture, allowing DJs to apply a variety of effects to any combination of mic and program inputs. Insert effects into individual channels, a sub-mix of channels, or the entire main mix. Combine outboard effects processors with VST effects running on your computer. FlexFX makes it easy to create unique, compelling mixes in a variety of mixing styles.

Two microphone inputs put the DJ and entertainer in direct contact with the audience. Each microphone includes independent Talkover control. Engage a mic to put it into the mix, or engage Talkover to put the mic in the mix and duck all other sources. Talkover makes it easy to jump into the mix for quick, intelligible announcements.
The Rane MP25 ships March 2011.
More information: Rane Corporation