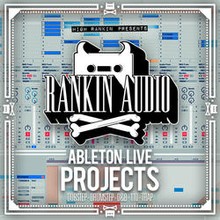 Rankin Audio has introduced Ableton Live Projects, a collection of tracks for use in Ableton Live.
Using the ammunition in the Rankin Audio archives we have created 5 complete tracks in Ableton Live 8 using the DAWs built in plugins and NI Massive.

You will be able to edit, rework, remix, chop, screw and do anything you like to them. You will be able to see how each channel is made up, the FX chains, drum racks, the EQ, the compression, the side chaining, gating, everything. You will be able to look in depth at how the bass is balanced with the drums, where to put different synths in the mix and beyond.You can see how the drums are programed, how each hit is effected and placed in the mix. For the first time you can look at a track from the ground up and rework the principles with your own style into new productions.

Focusing as always on the heavy dancefloor driven bass music this pack come with 5 tracks including Dubstep, Drumstep, Trap, Drum & Bass and 110bpm. This gives you the perfect spectrum of bass music for you to delve in to.
The sound library is available to purchase for £19.95 GBP.
More information: Rankin Audio / Ableton Live Projects