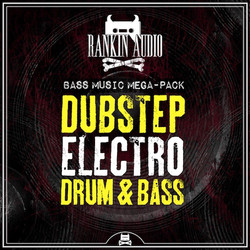 Rankin Audio has launched Bass Music Mega Pack – Dubstep, Electro and Drum & Bass, a sample pack for bass music production.
Bass Music has long been a term that us lovers of filth have used to describe Dubstep, DNB, Breaks and the harder end of Electro.

Here at Rankin Audio we know that our customers have a broad taste in music and with this pack we aim to satisfy your yearning for bassline from 128bpm all the way to 174! Offering up a blend of balls-to-the-wall, heavyweight dubstep that can reduce a rave into a deranged mosh pit in a matter of minutes. Super dirty, fast paced, neuro DNB and some serious mash-up Electro.

Featuring a wealth of 99 basslines ready to be slammed straight into the mix and then have the living daylights beaten out of them with any effects you care to use. No less that 147 synth riffs to add some lovely melodic texture and an ear catching hook. A world of FX and build up tools will be at your disposal along with some of the much desired choppy vocal loops to add that little splash of vocal to shine up the mix.
The sample pack is available to purchase for £29.95 GBP.
More information: Rankin Audio / Bass Music Mega Pack