Rattly And Raw has announced The Stupidly huge toy pianos and friends, a toy piano instrument library for Native Instruments Kontakt.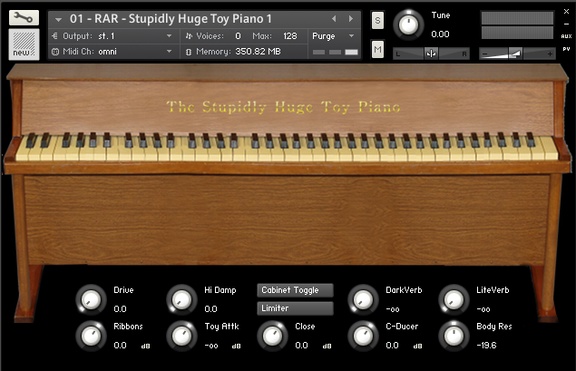 Toy pianos are usually limited to being a great little additional tinkly instrument, but with usually only a few keys, a simple additional colour at best!
Not for Rattly And Raw…
We were not going to be put off by the annoyingly small key range of real toy pianos! We loved the sound and wanted to expand the tiny key-range of this childish characterful sound into, well, a huge key-range of childish characterful sound.

So we did…

Two massive 5 octave toy pianos constructed from genuine toy piano recordings, loose tines, prepared piano recordings, celeste recordings, multiple mic positions, convolution based body resonance and lots of tweaking.
The Stupidly huge toy pianos & friends features
Two multisampled FIVE OCTAVE toy piano instruments.
Controls to mix between different mic options and layers.
Lofi/fx controls.
2 custom made convolution reverbs.
Velocity manager (super useful for dialling in performance data).
2 multisampled concert celestes with loads of controls and options.
4 other bonus instruments including two toy pianos, a set of suspended tines and a basic prepared piano.
Over 3GB of samples (uncompressed).
The library is available to purchase for the introductory price of £20 GBP.
More information: Rattly And Raw / Stupidly huge toy pianos & friends