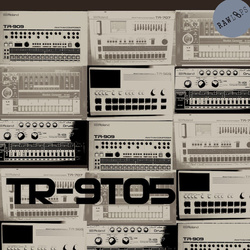 Raw Loops has launched three new sample packs: TR-9to5, Berlin Techno and Synthetic Percussion.
TR-9to5 — TR-909, 808, 707, 606, & 505 Drum Hits ALL-In ONE package. 898 drum hits from the TR Drum Machine Line have been meticulously recorded through a lot of vintage outboard gear including the Neve 1073, 1084, API 512s, Distressor, 1176, LA-3A, LA-2A, & more giving you the true samples and amped sounds. Making the RAW LOOPS TR-9to5 sample pack the last TR drum machine package you will ever need.

Berlin Techno — The true underground sound of techno & house, played at clubs such as Berghain in Berlin, Output in Brooklyn, Fabric in London, Gare in Porto & Warehouse parties the world over, this pack delivers on all fronts.

From dark twisted synth leads, heavy analog drums and grooves, to all out driving hats and percussion sounds to bend any room, plus the weightiest of sub bass to rattle any cabinet. Berlin Techno packs a major punch with unique sounds, loops, and premium analog sound quality.

Synthetic Percussion — 686 One-shot ALL Analog Synthesizer percussion sounds. Everything from High, Mid, Low & FX Percussive hits created with the Arp2600, Arp Odyssey, Memory Moog, MS10/20, Prophet 1, Prophet 5, and last but not least the SH101.

Perfect for adding and making drum-kits for your drum racks or adding the hits to your sampler and creating melodies these sounds will surely not disappoint when you are in need for some creative inspiration. Synthetic Percussions is packed with hits from vintage to all out modern flavor designed for Tech House, Deep House, Techno, & Minimal.
The packs are available for purchase starting from $18.99 USD.
More information: Raw Loops