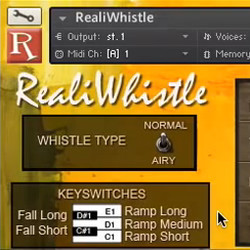 RealiTone has announced RealiWhistle, a virtual whistle instrument library for Native Instruments Kontakt.
You know you want it! Have you noticed how many pop songs lately use whistling? The Black Keys. Foster the People. One Republic. Peter Bjorn and John.

Does it give you pucker-envy? You know, as you try and try to add that whistle magic to your own songs, but just can't get a good sound?

Well, then RealiWhistle is your ticket to the top of the charts!
RealiWhistle features
Two different whistling styles: The typical "lips" style, and an airier "tongue" style.
Two dynamics with three round robins each for both styles.
More realistic performances with optional ramps (rises) into each note, falls in two different speeds (with keyswitches), and legato with speed selection.
Ensemble option, three whistles are stacked in one instrument.
RealiWhistle is available to purchase for the introductory price of $19.50 USD until December 31st, 2013 (regular $39 USD).
More information: RealiTone / RealiWhistle