Realitone has released version 2.1 of RealiDrums, a virtual drum instrument for Native Instruments Kontakt Player.
The update allows MIDI from the Groove Generator to drive other drum instruments.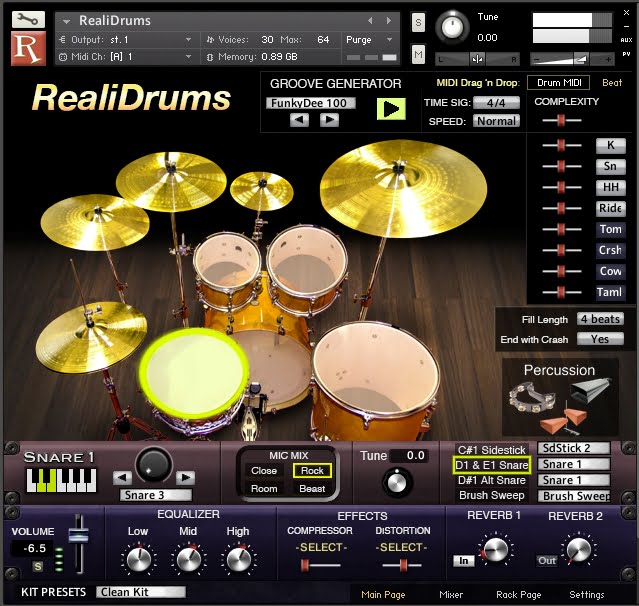 In a review posted last week, Sound Bytes Magazine called RealiDrums "insanely addictive." Well, better make sure you have that phone number for rehab handy, because we've added something to make it even more addictive.

RealiDrums 2.1 is now available and includes the ability to send MIDI from the RealiDrums Groove Generator (including the fills!) to other Drum instruments. Cool, right?

Mind you, with the ton of most-excellent drums RealiDrums has on tap (42 different snares, each with 4 mix treatments), there's not a whole lot of need to look elsewhere. But a number of our customers have told us they have favorite kits from "Brand X" that they still like to use, and they wish they could trigger those drums from the killer RealiDrums Groove Generator. Sort of a Kumbayah "lets all work together" thing.

Check out the video below to see how it works. (Note that this works for all formats *except* Audio Units. In other words, it works for all sequencers except Logic.)
RealiDrums is currently half off as part of Realitone's Black Friday Sale. The update is free for existing RealiDrums customers.
Make sure to check the huge list of deals for more Black Friday sales.
More information: Realitone / RealiDrums