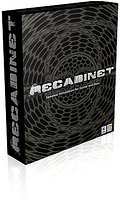 The Recabinet website has recently launched with details on Recabinet v1.0, a collection of over 400 guitar cabinet impulse responses for use with convolution plugins in modern recording software.
Tired of miking up cabinets, but not satisfied with the brittle, plastic sound of digital amp modelers? Tried rackmount speaker simulators but not satisfied with the results?

With Recabinet, you can get full-bodied, album-quality guitar or bass tone at any volume with your Mac or PC. Recabinet accurately models the loud part of your guitar tone – including cabinets made by brands such as Marshall, Mesa Boogie, Krank, Carvin, Ampeg, and more. Recabinet also models the subtle saturation of 6L6 and EL34 power tubes, as well as 4 different industry-standard microphones in over a dozen positions.
Recabinet 1.0 features
Cabinets

"Ghandi" – Mesa Standard/Oversize 4×12
"Angora" – Line 6 Vetta 4×12
"Igor" – Krank Krankenstein 4×12
"Genzie" – Genz Benz G-Flex ported 2×12
"Sterling" – Marshall Hand Wired 4×12 (late 1960s reissue)
"Damien" – Marshall 1936 2×12
"Kirby" – Carvin 4×12 British Series
"Manatee" – Ampeg SVT 8×10 Bass Cabinet (using Ampeg SVT Pro Classic power section)
Bonus cabinet – "Trapezoid" – Roland Micro Cube (using native power section)

Microphones

"57" – Shure SM57 – industry standard dynamic microphone, the most popular microphone for guitar recording.
"i5" – Audix i5 – modern industry standard dynamic microphone, for a full-range, aggressive response.
"4060" – Audio Technica 4060 – modern high-SPL condenser microphone, for warm, full-bodied tone.
"D6" – Audix D6 – modern kick drum mic, great for getting the low "cabinet rumble" tone as a blend-in with your primary tone.

Microphone Positions

On-the-grill, 1/2 inch away, and 1 inch away depths
Speaker cap, edge of cap and cone, mid-cone, and 45 degree angle positions

Power Sections

(used in all except where noted otherwise in the cabinet list)

Randall RT2/50 power amp with 6L6 power tubes
Randall RT2/50 power amp with EL34 power tubes
Recabinet will be available November 4 for $39.99 USD. Sign up for the newsletter to receive a free demo of Recabinet.
Recabinet 1.1 (a free update for Recabinet 1.0 owners) is planned for early 2009 and will include the following additional cabinets: Orange 4×12, Marshall 1960AV 4×12, Mesa Traditional 4×12, Randall RS412XLT100 4×12.
Visit the Recabinet website for more information and audio demos.