Mastering The Mix has announced the release of Reference 2, an update to the referencing tool that is designed to help music producers to get closer than ever to the sound of their favorite mixes.
Using reference tracks is essential if you want to create pro-sounding music that translates well on all playback systems.
REFERENCE 2 makes matching the EQ balance, stereo width, compression, and loudness of your reference tracks simple.

It does this by giving you the clear, and actionable insights you need to get your music sounding great and ready for release.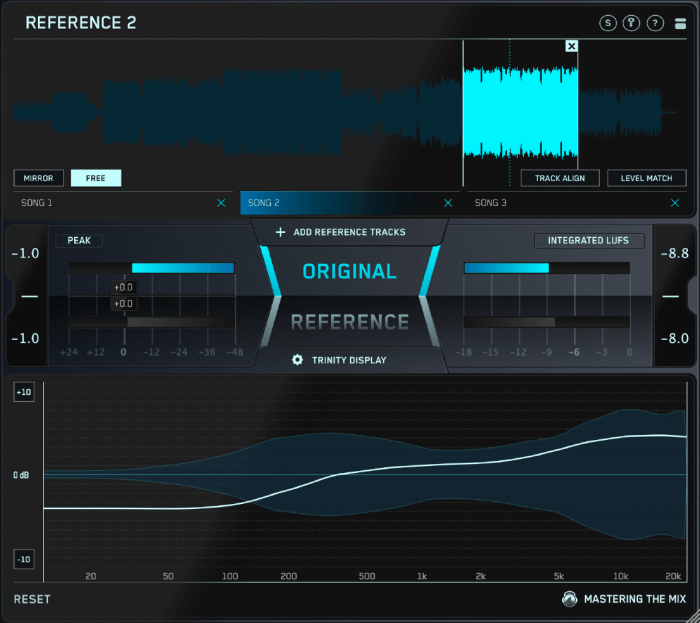 Changes in Reference 2
Complete user interface refresh with user experience and workflow improvements.
Expanded level matching options. You can level match your references to your original track, or the quietest track, or set all tracks to -14LUFS.
Improved EQ balance algorithm that goes deeper into the differences between the tonal balance of your song and your reference track and displays a complete curve.
EQ balance algorithm can display the EQ curve needed to get your mix sounding like your reference, or the inverted difference depending on your preferences.
Stereo width analysis and visual improvements.
Reference now comes with an additional source plugin called REFSEND that allows you to bypass entire FX chains to make loudness-matched A/B comparisons. This keeps you honest with yourself about the changes you're making to your music and ensures positive progress.
New metering layout, with peak, dBTP (decibels true peak) LUFS integrated and shortterm options.
More accurate and reliable track align algorithm.
Switching between the original and reference track can be midi mapped, allowing switching even when the plugin interface isn't open or selected.
Reference 2 is available now from Mastering The Mix and Plugin Boutique at a 25% introductory discount until December 5th, 2020. The regular price is £49 GBP / $59.99 USD / 55.99 EUR.
More information: Mastering The Mix