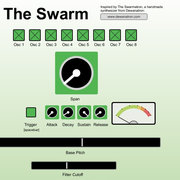 reFuse Software has released The Swarm, a drone synthesizer inspired by The Swarmatron, a handmade synthesizer from Dewanatron.
It was the Swarmatron that created many of the buzzing clouds of anxiety-provoking noise used by Trent Reznor in his Oscar-winning score for "The Social Network".

Since we were curious what it would be like to play such an instrument, yet didn't have the $3200 laying around, we thought we'd build something like it in software, and share it with you.
The Swarm is available as a standalone application for Mac OS X. Note: the audio output of the The Swarm may be sent to ReWire-compatible host applications.
More information: reFuse Software / The Swarm