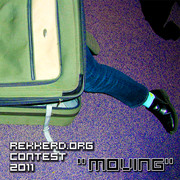 Just a little reminder that you only have 3 days left to join the Moving music production contest.
To be honest I am not entirely sure if I will have internet access to check the latest entries in the next few days as I will be moving my internet/TV gear over to my new home over the weekend. Hopefully my provider has set thing up like they said they would… yeah…
Anyway, if you still would like a chance to win some fabulous prizes from DNR Collaborative, CableGuys, Synapse Audio, Wave Alchemy, and Soniccouture, then get started now.
Deadline is April 3rd, 11.59pm CET!
More information at the contest page.