RELOOP has announced the RP-1000 MK2 belt-drive turntable and RP-2000 MK2 quartz-driven DJ turntable with direct drive motor and built-in phono pre-amp.
The MK2 version features several improvements, including a newly developed top panel construction and improved metallic buttons with enhanced feel.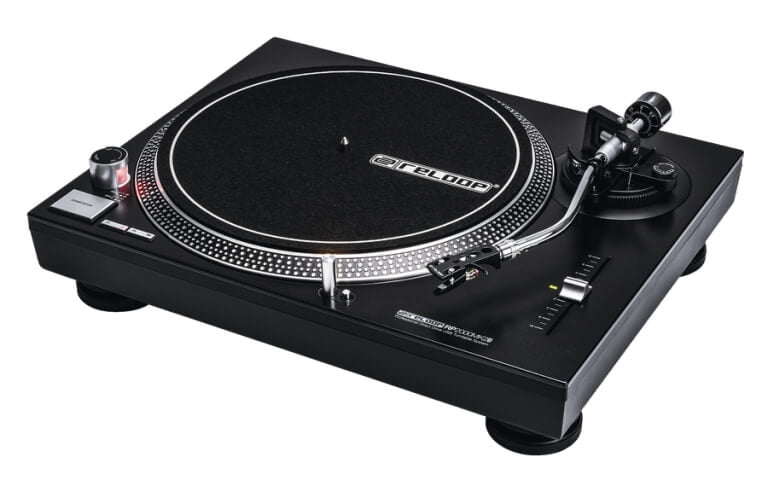 The new deep-black metallic top panel is equipped with metallic buttons for start/stop and speed settings. The improved touch upon hit offers a clear haptic feedback.

With the push of a button the aluminium target light can be extended, so that the needle position can be seen in dark surroundings.

The sturdy construction with optimized damping features and shock-absorbing feet improve isolation from unwanted vibrations.
RP-1000/RP-2000 MK2 features
Newly developed top panel and reinforced housing construction.
Reworked metallic buttons with improved feel & tactile response.
Precision Pitch with selectable ranges of +/-10 % (RP-1000 MK2) / +/-8 % (RP-2000 MK2).
Superior finish in deep black metallic.
Precise motor control with 2 speeds selectable (33 1/3 & 45 rpm).
Precision-engineered, die-cast aluminium platter with stable rotation.
Statically balanced s-shaped tone arm with hydraulic lift and anti-skating – mechanism.
Universal connection for pick-up systems (SME).
Extendible needle illumination.
Shock-absorbing feet for vibration isolation.
Sturdy, heavy construction with optimized damping features.
Prepared for dust cover (available as optional accessory).
Incl. slipmat, removable headshell and ready-mounted OM Black pick-up made by Ortofon.
RP-1000 MK2 only: USB audio output for digitizing your records easily.
RP-1000 MK2 only: Built-in phono pre-amplifier (no grounding necessary).
RP-1000 MK2 only: Switchable phono and line level output.
The RP-1000 MK2 is available for 219.99 EUR/$249.99 USD/£195 GBP. The RP-2000 MK is 279.99 EUR/$299.99 USD/£245 GBP.
More information: RELOOP