The Renoise team has launched Redux, a performance-oriented sampler and phrase sequencer for Digital Audio Workstations and other plugin hosts on Windows, OSX and Linux.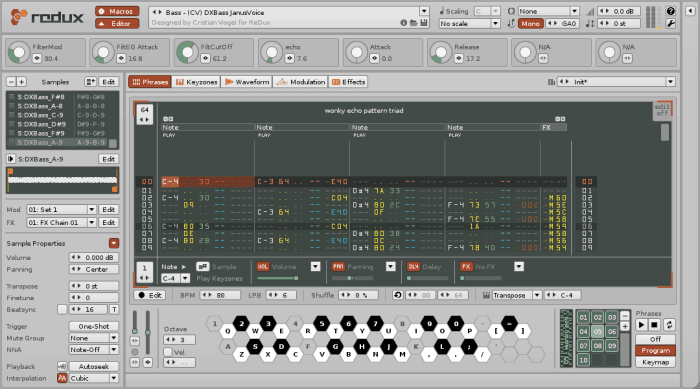 Redux is a powerful sampler, supporting virtually unlimited samples and effects, with RAM and CPU being the only real limits to your creative freedom. As a sequencer, it has inherited and expanded upon a unique set of features from its bigger brother, Renoise.

Redux features an integrated work-flow for composition and performance. You can record new sounds from within the program itself and use the built-in waveform editor to edit and adjust these recordings. You can specify in great detail how the samples are triggered via your MIDI keyboard. So no matter if you are a traditional keyboard player or prefer to trigger sequenced sounds via drum pads, Redux is able to meet those demands, either in-studio or on-stage.

The software comes with a number of ready-to-use presets to help kick-start your creative process. This includes expressive synth patches, drum-kits, and complex sound environments.
Redux (VST/AU) is available for purchase for 58 EUR / $65 USD + VAT for EU customers.