AudioSourceRE has announced the release of RePAN, an audio extractor plugin that offers real-time panning-based separation of stereo mixes, using AudioSourceRE's Digital Signal Processing techniques.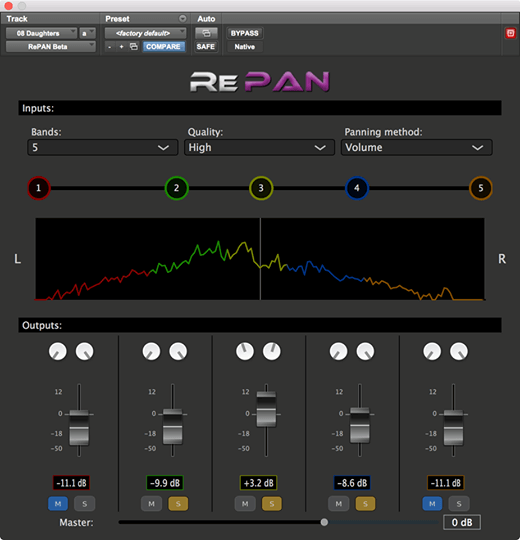 The plugin allows you to separate and remix stereo mixes on the fly, adjusting the width and rebalance the volume of existing mixes in real-time.
RePAN allows the user to adjust, rebalance and essentially, equalize the stereo field in a way not previously possible. RePAN analyzes the stereo field then separates it into a number of spatial bands allowing the user to change the volume and pan positions of each spatial band independently within a stereo mix in real-time. This user-controllable multi-source separation plugin allows you to control how you want to hear the music mix, on the fly.

Ideal for DJs, mash-up enthusiasts, as well as mixing and mastering engineers who want to gently tweak a mix without requiring the original stems.
RePAN features
Selectable number of spatial bands (3-7).
Adjustable spatial band positions across the stereo field.
Embedded output mixer to remix, re-pan, mute or solo each spatial band.
Real-time local processing.
Available in AAX, VST and AU formats.
RePan is available for $99 USD. Use coupon code NAMM30 at checkout to save 30% off RePan, DeMIX Pro and DeMIX Essentials until February 28th, 2019.
More information: AudioSourceRE