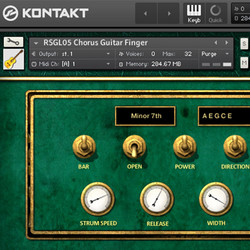 Replika Sound has announced the release of RSG05 Chorus Guitar, a guitar instrument library for Native Instruments Kontakt.
The instrument was made by combining two steel string guitars. It is designed to provide a resonant wide stereo sound or a shimmering mono tone.

No synthetic Chorus or Stereo-Width Effects are used; it is all naturally achieved. It comes in both Picked and Finger-played versions.
RSG05 Chorus Guitar features
8,230 Samples.
True random-robin note selection (5 for the most used articulations).
11 key-switched articulations: legato (non vibrato), marcato, staccato, hammer on, pull off, slide up into note, slide down after note, fret noises, natural harmonics, sul ponticello (plucked near the bridge), sfx / percussive hits.
A "Chord Mode" with strum speed and direction controls.
One key triggered chords: 30 bar chord shapes, 26 common open chords, power chords for each note.
Stereo width control.
"Tremelo Picking Mode" with speed control.
Vibrato key to provide a quick way of playing in vibrato on any articulation.
Two display windows on the GUI – giving the name and constituent notes of each chord selected.
Brightness filters and dynamic envelopes which automatically respond to the velocity of each note played.
Page of effects units (eq, compression, delay, convolution reverb).
Includes a "Lite" RAM saving version of each instrument (3 random-robins).
All main features are fully MIDI automatable.
All sounds were recorded with natural sustain and resonance (no loops).
The library is available for purchase for $40 USD. Requires full version of Kontakt 5.
More information: Replika Sound / RSG05 Chorus Guitar