Resomonics has announced the release of its second major Kontakt sample library Refraction, an analog based synth instrument.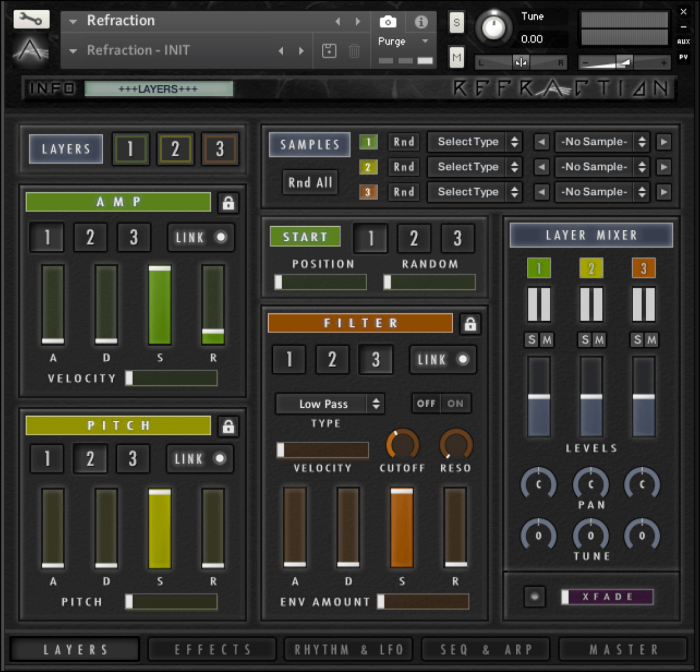 The successor to Reflection utilizes a similar but more advanced interface, with a whole new warm analog sample set with everything from deep synth bass sounds to lush evolving ambient pads and short analog synths to complex pulses and rhythms.
Refraction includes just over 3.5GB of samples taken mainly from a Korg EX800 analogue synth from 1984 (Desktop version of the Poly 800), with a few samples from a Casio HT-3000 from 1987 (whilst not Analog VCO's it has an analog filter which was used in all sounds).

All of the samples were recorded through a tube/valve preamp to add more warmth to the sound, and every note over 4 octaves was recorded to ensure the character of the sound was captured. Some samples were also recorded through a hardware analog filter as well as the preamp.
Refraction features
Up to 3 layered sounds.
3.5 GB of warm analog samples.
Amp, pitch and filter envelopes for each layer.
6 filter types for each layer.
Sample start position for each layer.
Per layer LFO pulses and filter sequence.
Separate send levels per layer.
250+ designed snapshots.
Pan, pitch, gain & filter LFO's.
Step sequencer & arpeggiator with randomisation.
Save and load arpeggiator & sequencer settings.
Monophonic & unison modes.
10 send / insert effects.
Compressor, limiter & equalizer.
The library includes over 250 carefully designed snapshots which make use of the numerous sound sculpting tools and effects included.
Refraction is available for 2 weeks at launch with a 30% discount, priced at £29.97 GBP (regular £39.95 GBP). Prices ex. VAT. The library requires the full version of Kontakt 5.8.1 or higher.
More information: Resomonics