Resomonics has released version 1.5 of Reflection, a cinematic sample library for Native Instruments Kontakt.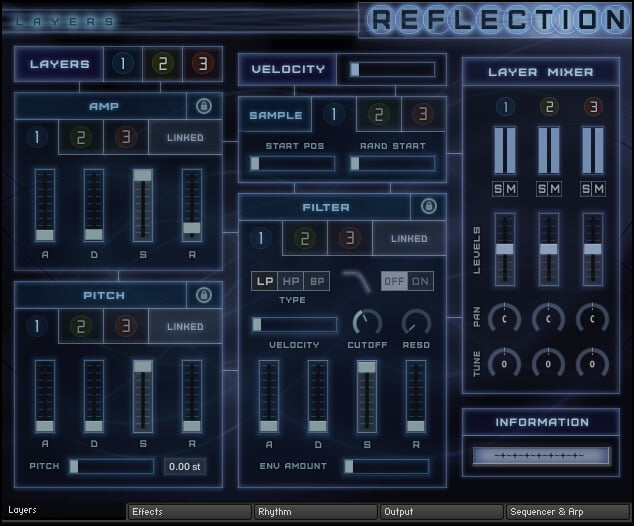 Reflection (now at version 1.5) is an inspiring Cinematic Sample library and toolkit for composing Soundtracks and trailers. Perfect for anything from a subtle underscore to driving action.

It contains over 250 presets and a highly flexible interface with a multitude of tools for designing your own sounds, rhythms and arpeggiations.
Changes in Reflection v1.5
Complete graphical re-design.
All controls now have help associated with them.
Envelopes and Filters now separate for each of the 3 Layers offering much more powerful sound design.
You can link layers to edit as one if required.
Link / unlink button can be locked to prevent accidental changes to other layers.
Sample start position and random start position added.
Random pattern generator for Pre-FX filter added.
Step sequencer and Arpeggiator now combined in one page.
Complete randomisation of all arpeggiator parameters added.
Set what parameters to randomise and the minimum / maximum ranges.
Handy step shortcut buttons added.
Ability to Save and load arpeggiator settings added.
Forward and back navigation added to most menu's for easier browsing.
80 New designed patches added bringing the total to 278.
Includes 10 new Drones that crossfade between layers using the Modwheel.
In addition 13 Dry percussion patches added.
83 Raw initialised patches with 2 or 3 sample layers added to allow easy sound design from scratch.
New user manual with much more detail.
In celebration of the launch, Reflection is available from Kontakt Hub at a 25% discount until the end of February, 2017.
More information: Resomonics / Reflection